Filter Presses
from 5 to 120+ plates
400 x400 to 1500 x1500 mm
Industrial Filter Presses that offered by ADTEC Chemicals are the most technologically advanced answer for separation of solids/liquids with filter plate technology.
Because of our experience, the most advanced construction materials and different choices in design our FilterPress have the highest level of automation, flexibility and functionality in the market.

Plate-and-Frame type Filter Presses were developed from 1800 onwards. Most filters today are known as "Chamber Filter Press", "Membrane Filter Press", or "Membrane Plate Filter".
They are used in a number of processes in the food industry, chemical or pharmaceutical industries, metal industry, etc. for the separation of solids that are not dissolved in the liquid but are transported with it.
The filter presses separate solids / liquids quickly and with a high degree of efficiency and purity for further processing. Filter presses generally operate in a "batch" method.
They are fed with the mud or product continuously and with high pressure until the solid product called "cake" is formed. The cake is removed and the pressing process is repeated. Filter presses use high pressure to increase filtration speed and efficiency to produce a solid cake with a low water content.
Filter presses are generally more efficient than similar low pressure filtration systems or systems that use gravity such as tape filters, filter bags, filters with filter paper, etc.
A filter press consists of a series of elements / plates covered with special cloths (filter cloths) placed in a frame next to each other and fixed with the help of a strong hydraulic system. In the chamber formed by the plates, the mud is fed under pressure and the dehydrated "cake" is created.
Operating pressures range from 8 to 12 bar depending on the unit. The liquid that passes through the sails is clean and can be disposed of safely. At the end of the process the solids are removed in the form of low moisture cake.
The whole process is usually controlled by security automations.
Options
Plate size: from 400×400 to 1500×1500 mm.

Number plates: 5 to 120+ pieces.

Quality of Cloths: depending on the composition, pH, temperature of the liquid.

Operating pressure: medium or high.

How to Close the plates: manual or automatic.

How to extract the cake: manual or automatic.

Type of feeding Pump: Power supply, pressure, material of construction.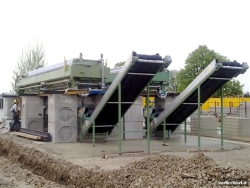 ---
Request A Quote for Filterpress here !
In order to determine which is the best solution for you, please fill the form below and describe in a few words the application: