Water Quality Sensor MultiProbe ip/020.6
The Water Quality Sensor MultiProbe ip/350.6 is a Multiparameter Probe for analysis of liquids and water. This model allows to measure pH, Conductivity, Redox, Dissolved Oxygen, Turbidity, Depth and Temperature.
Suitable for Depth max 20 m.
With built-in data logger.
Internal power with batteries Ni/Cd.
Description
Up to 7 parameters

Max. depth 20 meters

Easy to replace sensors

With built-in datalogger

Internal power supply with battery

Managing software

Upon request custom models

 
Water Quality Sensor MultiProbe ip/020.6 is a leading device for the continuous measurement, collection and storage 6 basic parameters of water quality. It is suitable for :

Lakes, dams, rivers

Sea monitoring

Undeground water

Boreholes and wells

Waste water treatments

Fish farming.
Technical Data
Software – Data storage
The new software release has been developed to work with Windows and Internet Explorer. When the Water Quality Sensor MultiProbe ip/020.6 is connected to a PC, user-friendly and intuitive software allows for calibration of all installed sensors, to download data and print graphs. Furthermore, the graphic interface has an Help Menu that links the user to specific chapter of Instruction Manual.
The system can be programmed to acquire data from each probe and to send them via FTP to various Acquisition and Monitoring Centers. It is also possible to send alarms or relay activations via SMS to a list of mobile phones.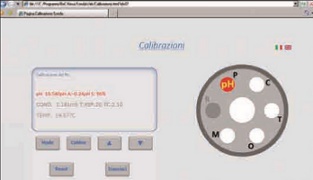 ADTEC offers the possibility to have custom models with only certain parameters.
Please contact our Sales Department for details.
Ask A Quote
Fill the form to get a quote or more information about the product.